Who We Are
Aries Export Pvt. Ltd. is a leading exporter of sugar manufacturing equipment, machinery and spares in India. Established in 1977, we bring comprehensive experience and expertise to the sourcing, fulfillment, installation and commissioning functions for sugar mills.
Our clients value us for the technical knowhow, superior quality, strategic tie-ups and complete peace of mind we bring to their sugar manufacturing requirements. State-of-the-art machinery allows our clients to attain increased efficiencies, letting them accept any operational challenge that comes their way. They choose to work with us because our products help them gain and maintain a competitive edge in the sugar industry.
Over the years, we have successfully catered to sugar manufacturing operations in Uganda and Rwanda. Presently, we are expanding our reach by exploring newer arenas in Kenya, Tanzania, Ethiopia and Sudan.
Our buyers and business partners include Kakira Sugar Ltd. in Uganda and Kabuye Sugar Works SARL in Rwanda. Because of our consistently high-quality standards and reliability, our relationship with them has nurtured over the years. They are the company's greatest assets.
How We Do It
Individuals in our team are highly qualified and experienced, making it easy for them to adopt a professional approach.Together we strive to source end-to-end sugar manufacturing machinery for our clients.

Throughout the process, the quality of raw material is never compromised. This is because of our extensive experience in the industry, and our exclusive tie-ups with manufacturers who allow us to provide comprehensive procuring and commissioning assistance to our customers.

At every stage, we introduce several IT enabled checks for quality and price. In some cases, we outsource the job of inspection and testing to our top consultants in order to ensure that our sugar mill equipment meets the specified parameters.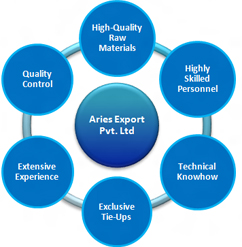 Our Products for the Sugar Manufacturing Industry

Our Team
We have a team of techno-commercial experts who execute their job religiously and in a time bound manner. Some of our employees have been with us for almost three decades. A professional atmosphere and a spirit of excellence propel each one of us towards the common goal of delivering sugar manufacturing machines that our clients can rely on.
We endeavor to hire, train and motivate the best minds in the industry because it is the key to achieving our goal of delivering the most cutting-edge solutions for the sugar manufacturing industry. Loyalty, excellence and inquisitiveness are the hallmark of the 1000+ engineers working on multi-disciplinary projects across Aries Export Pvt. Ltd.